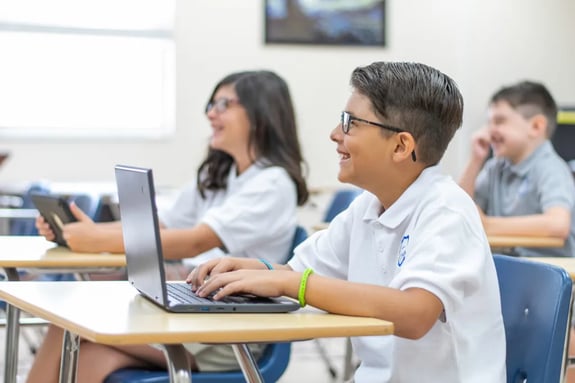 MIDDLE SCHOOL
Our Desire
As our students progress into the Middle School years, we desire for them to not only be challenged academically, but also spiritually. Whether students step into Middle School from our Elementary School or are new to CCA, each student will be taught through a Biblical perspective with the intention of establishing and building upon a strong foundation of faith.
What Sets Us Apart
CCA's Middle School program prides itself on the various academic opportunities it offers our students. With state-of-the-art technological integration, not only do our 5th through 8th grade students have the ability to take High School courses, but they are also able to select an elective(s) that best interests them. With these opportunities, CCA students' horizons are broadened by the vast number of subject areas they can focus on.
Our purpose is to set our students up for academic and extra-curricular success and ensure a smooth transition as they step into High School.
A Letter From The Middle School Principal
Transitioning from the elementary years to middle school can be very challenging. Calvary Chapel Academy's Middle School seeks to guide the student through this time in a safe and supportive environment while developing godly character in a loving Christian environment. We offer our students many academic experiences while teaching God's Word as the basis for applying it to all areas of the student's life. Our goal is to provide a quality, challenging academic program for each student while focusing on a Christian worldview.
5th through 8th graders are required to be enrolled in eight classes each year. In addition to required core subject courses in Math, Language Arts, Science, and History, students participate in Physical Education and Bible. Electives are offered to students in Band, Chorus, Drama, Art, Computer, STEM, Yearbook, Culinary Arts, Woodshop, and Spanish. It is our goal that our students are well-prepared to make a smooth transition through challenging coursework in middle school to the rigorous coursework of high school.
Many students in 7th and 8th grade take high school courses at CCA, and as a result, may earn up to four high school credit hours to be included in their high school credit requirements for graduation in the State of Florida: Algebra I (FDOE 1200310), Geometry (FDOE 1206310), Physical Science (FDOE 2003310), Spanish I (FDOE 0708340).
As our students learn, they are provided a strong digital learning environment as we teach them to gather, evaluate, and use the information for learning, to conduct research, solve problems, and create original works, and to communicate and work collaboratively.
Other features of our middle school program include:
Biblical integration in every subject;
Experienced faculty to facilitate learning on an individual basis to meet the needs of the whole child;
Small group and individual tutoring sessions to further solidify mastery of concepts;
Mission trips and retreats designed to strengthen the student's relationship with Christ;
Afternoon and morning clubs to enhance and enrich student interests (Gymnastic Club, Gaming Club, Sign Language Club, Tech Club, Art Club);
Weekly chapel sessions to provide a deeper knowledge of what it means to be a Christ follower;
Leadership opportunities through the National Junior Honor Society and volunteering.
We believe in partnering with our parents to act as a team to identify the needs of our middle school students so that they may reach their greatest potential in both an academic and spiritual sense so that they may become strong Christ followers.
Sincerely,
Katie Ruip
Middle School Principal
CLASS SIZE RATIOS: MIDDLE SCHOOL

| | |
| --- | --- |
| Fifth and Sixth Grade | Max 22 students = 22 to 1 ratio with floating aide per grade level |
| Seventh and Eighth Grade | Max 24 students = 24 to 1 ratio |
5th-8th Grade Electives Offerings

As CCA students advance into Middle School, they are given the ability to choose electives classes that best interest them.

Our 5th and 6th grader students are able to choose (1) elective in addition to their core studies:

5th-6th Grade Elective Offerings: Band, Chorus, Drama, Art, and Computer

Our 7th and 8th grade students are able to choose (2) electives in addition to their core studies:

7th-8th Grade Elective Offerings: Advanced Band, Chorus, Drama, Art, Worship Band, Dance, Culinary Arts, Computer, and Yearbook

5th-8th Grade Sports Opportunities

CCA Middle School students who are ready to take their athletic abilities to the next level can try-out and participate in our advanced sports offerings!

Check out some of the offerings by season below:

Fall Season: Volleyball, Swimming, Football, Bowling, Cheerleading

Winter Season: Flag Football, Basketball, Soccer

Spring Season: Flag Football, Basketball, Soccer

To learn more about our Middle School Athletics Program, visit our Athletics page by clicking the button below.




5th-8th Grade Chapel

Each week at CCA, our Middle School students participate in Chapel. For worship, students are lead by some of their peers, who audition and become a part of CCA's worship band.

After worship, students are led in a time of teaching and diving into God's Word, at their level. The teaching is done by either our Director of Discipleship or one of the CCM Pastors.

The conclusion of Chapel involves a time of prayer. During this time, students will pray individually, gather in small groups, or pray as a whole.
Become A Part Of The CCA Family!
Interested in enrolling your student(s) at Calvary Chapel Academy?
Follow the steps below to complete the process.
1
REQUEST INFORMATION
Thank you for your interest in Calvary Chapel Academy. We look forward to connecting with you and serving you and your family. For more information about CCA's Middle School, please fill out the form below.

2
TAKE A TOUR
Campus tours take place weekly, on Thursdays. Early Education and Elementary tours are from 9:00a.m. to 10:00a.m. Middle and High School tours are from 10:00a.m. to 11:00a.m.
No appointment needed!
REQUEST INFORMATION
Thank you for taking the time to learn more about Calvary Chapel Academy! We look forward to connecting with you and learning how we can serve you and your family.
This is an excellent school and my daughter loves it!