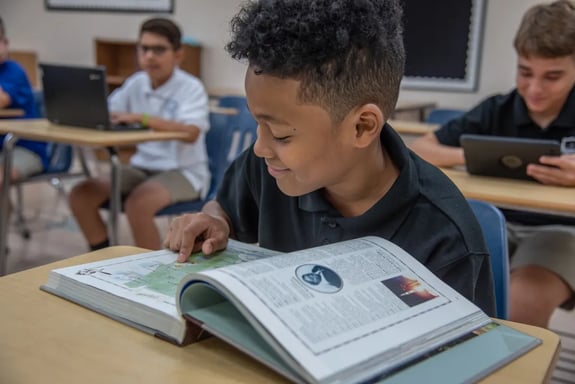 ACADEMICS
Where Faith and Learning Soar!
Academic Excellence
The academic pillar of Calvary Chapel Academy is built upon a biblical perspective through which students learn to view the world and their role in it. We strive to maintain excellence, shaping our students to be world changers. We are able to achieve this through the hard work of our team of educational professionals.
Nurturing Environment
We hire teachers and staff of the highest quality and character to instill that same development of godly character in our students. Our teachers create a safe and loving Christian environment, while providing a challenging, high quality, academic instruction.
Biblical Integration
Our teachers receive ongoing professional development in educational best practices, as well as in biblical integration. Targeted professional development allows our educators to teach all subjects through a biblical worldview. We use a variety of resources featuring leading technology combined with carefully selected curriculum and research-based instructional practices to deepen students' intellectual skills.
100%
Teachers With A Bachelors Degrees
30%
Teachers Have Advanced Degrees
96%
Teachers Are ACSI Certified
K-4th Co-Curricular Classes

Kindergarten through 4th grade students participate in weekly co-curricular classes. These classes support CCA's core-curriculum while also introducing new subject areas that encourage students to discover and grow their gifts, talents, and abilities.

K-4th Co-Curricular Classes: Art, Drama, P.E., Computer, Media Center

5th-8th Elective Classes

CCA's Middle School students have the ability to choose electives that best interest them. Through these offerings, students uncover new passions and obtain a deeper understanding of new subject areas. 5th-6th graders can choose one elective and 7th-8th graders can choose two.

5th-6th: Art, Drama, Computer, Dance, Beginning Band, Beginning Chorus

7th-8th: Worship Band, Art, Culinary Art, Drama, Dance, Intermediate Band, Computer, CCA Kingdom Chorus, STEM, Yearbook

9th-12th Elective Classes

CCA High School students are encouraged to explore the wide-range of electives CCA offers with the intention of taking their gifts, talents, and abilities to the next level. High School students can choose a total of two electives classes. These options range from Physical Ed. to Fine and Practical Arts.

9th-12th: Team Sports, Individual Sports, Band, Chorus, Theatre, Art, Worship Band, Dance, Culinary Arts, Computer, AP Computer, Yearbook, Science, and Speech/Debate (12th Grade Only)
Discover More About CCA Below!
LEARNING PLANS
At CCA, we desire that our students flourish and thrive. To that end, we partner with parents to ensure your child has the scaffolding and support they need to reach their potential. CCA uses a set of high academic standards that meet or exceed state, national, and common core standards. These standards provide a roadmap of targeted learning for our students. Additionally, biblical integration in all subject areas ensures CCA students are taught the concepts which will prepare them for their academic and spiritual futures.
Our teachers strive to individualize and differentiate classroom instruction to meet the needs of every student. Additionally, teachers at CCA are ASCI certified and skilled in providing innovative classroom practices that recognize multiple intelligences and learning styles.
Our admissions team thoughtfully reviews all student applications. If your child has a medical diagnosis and requires additional classroom accommodations or academic intervention, our resource department is equipped to provide weekly small group push in and pull out services on an as-needed basis. Please note that a child is required to have documentation of a diagnosis provided by a physician, psychologist, neurologist, etc. to have a 504 plan and that CCA is not staffed to provide Brevard County Public Schools Tier two and Tier three interventions.
We understand you want the best education for your child and CCA is committed to providing the resources that will enrich and enhance your child's learning experience and academic success.
Become A Part Of The CCA Family!
Interested in enrolling your student(s) at Calvary Chapel Academy? Follow the steps below to complete the process.
1
REQUEST INFORMATION
Thank you for your interest in Calvary Chapel Academy. We look forward to connecting with you and serving you and your family. For more information about CCA's Elementary School, please fill out the form below.
2
TAKE A TOUR
Campus tours take place weekly, on Thursdays. Early Education and Elementary tours are from 9:00a.m. to 10:00a.m. Middle and High School tours are from 10:00a.m. to 11:00a.m.
No appointment needed!
I thank God every chance I get for this great school He has blessed us with! Calvary has become my second family. This is my child's 4th year at Calvary and she has excelled in all aspects of life and has helped our family grow closer to the Lord. I pray that I can continue her education at Calvary Chapel Academy.
My son Dalton loved going to CCA and was in one of the first graduating classes there. He was in the praise and worship band and that is where he started his music career. He continued to graduate high school and then went to Belmont University in Nashville Tennessee where he graduated with a music business degree. We will always be grateful to Calvary for the love they poured into him.