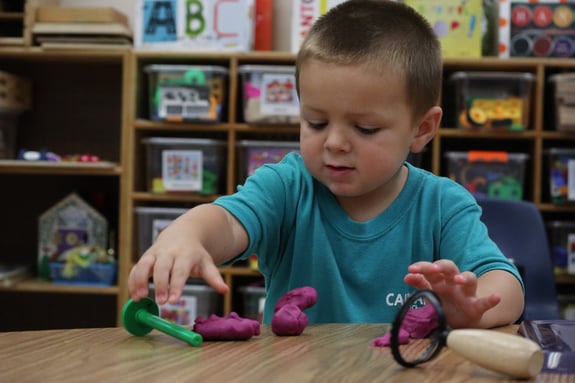 Preschool and VPK
Our Desire
Here at CCA, we strive to come alongside parents to seek God's best for their students. Starting from a young age, CCA leadership and teachers desire for students to not only understand God's love, but to experience it at their level. In our Preschool and VPK programs, students will participate in prayer time, praise and worship, Bible stories, and more.
"Train up a child in the way he should go, and when he is old, he will not depart from it." - Proverbs 22:6
What Sets Us Apart
At CCA, we recognize that students learn at their own pace. Preschool and VPK students will be introduced to core subjects (reading, mathematics, and language arts) that will lay the groundwork for understanding each subject and set them up for success as they enter the next phase of their academic journey.
Schedule
Currently, we have a 4-day and 5-day class for the VPK program. The average class size for CCA's VPK program is 18 students.
The 4-day program runs from 8:10am - 12:25am on Monday - Thursday.
The 5-day program runs from 8:10am - 11:40am on Monday - Friday.
The 3-year-old program runs from 8:10am - 11:40am.
The requirements for VPK are that the child is 4 on or before September 1st, and they are fully potty-trained.
A Letter From The Director
Our Early Childhood Program is comprised of Preschool (3-year-olds who are potty trained) and VPK (Children who will turn four by September 1). Parents want God's best for their children, and we share that desire here at Calvary Chapel Academy. We are committed to providing quality education in a loving, Christian atmosphere. Our school places a strong emphasis on building solid basic learning concepts, as well as establishing Christian life principles in accordance with Proverbs 22:6, "Train up a child in the way he should go, and when he is old, he will not depart from it."
Our teachers recognize that children have varied learning styles and learn at different rates. We provide activities that lay the groundwork for spiritual growth, as well as introductions to reading, mathematics, and language arts skill development while maintaining the standards set forth by the State of Florida.
If you are like-minded in that mission and feel God is calling you to enroll your child in a Christian Preschool, we would love for you to consider Calvary Chapel Academy. The application process can be found here on our website. Please note that we have these programs at both the Melbourne and the Viera locations. If you are registering your child for VPK, you MUST also obtain an ELC Voucher by filling out the information on the following website: http://www.elcbrevard.org/p/232/registration-information .
We look forward to working with you through the application process, and we will be praying for God's guidance and direction as you seek His will for your child's future education.
Sincerely,
Katie Ruip
Early Childhood Director
Become A Part of the Calvary Chapel Academy Family!
Interested in enrolling your student(s) at Calvary Chapel Academy? Follow the steps below to complete the process.
1
Request Information
Thank you for your interest in Calvary Chapel Academy. We look forward to connecting with you and serving you and your family. For more information about Preschool and VPK, please fill out the form below.
2
Take a Tour
Campus tours take place weekly, on Thursdays. Early Education and Elementary tours are from 9:00a.m. to 10:00a.m. Middle and High School tours are from 10:00a.m. to 11:00a.m.
No appointment needed!
REQUEST INFORMATION
Thank you for taking the time to learn more about Calvary Chapel Academy. We look forward to connecting with you and learning how we can serve you and your family.
I have 3 kids attending CCA and I love it! They have been there since my 4th grader was in vpk. The teachers, staff, faculty are top notch. I feel good sending my kids to a school where they are really loved and cared for. I appreciate that God is first and center but also that education is also spot on! Great school to send your kids and watch them grow physically, spiritually, and academically! We ❤️CCA!!!
I love CCA! My son attended 3-year-old preschool, and is currently in VPK, at CCA. We have had amazing experiences both years. Both teachers regularly provided pictures and updates of what the kids were doing/learning in class. It is clear that the teachers truly love the kids and love what they're doing. I'm blown away with how much my son has learned there - not only the academic knowledge, but also the biblical knowledge he's gained. Couldn't be happier!