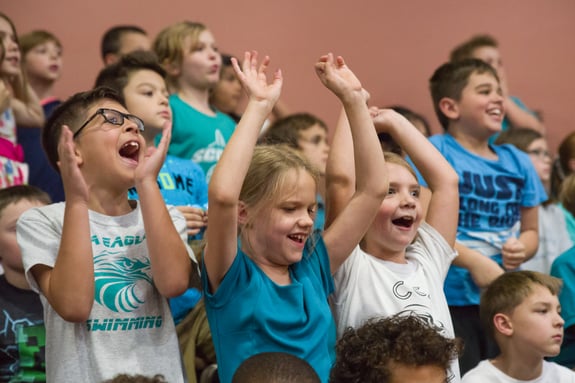 ELEMENTARY SCHOOL
Our Desire
The Elementary years are vital for laying the foundation for strong, continuous academic growth. Here at Calvary Chapel Academy, our Elementary teacher-teams strive to enrich their students' education through hands-on activities, technological integration, and interactive experiments, all through a Biblical worldview.
It is our hope and desire that as your student moves through Elementary School into Middle School, High School, and beyond, that they not only take valuable lessons with them, but most importantly grow stronger in their walk with the Lord.
What Sets Us Apart
CCA's Elementary teacher-teams works together to create a nurturing, safe, and creative learning environment for their students. To that end, we understand that each student has been given unique gifts and abilities. We consider it a blessing to be able to encourage each of our students to discover and grow their gifts and abilities throughout their time here at CCA, and use them for God's glory.
We also recognize the incredible privilege in coming alongside parents in co-laboring in our students' educational journeys and Spiritual growth. We encourage parents and families to take part in this journey with us.
A Letter From The Elementary Principal
Calvary Chapel Academy's Elementary School provides an exceptional learning environment for students ranging from grades K-4. We endeavor to create a safe and engaging learning environment full of support for our students while also helping them capitalize on their strengths and unique individual abilities.
We believe education provides future opportunities. Our teachers are devoted to giving students the foundational skills and knowledge needed to give them as many benefits as possible when they leave CCA. We know that students must be challenged with rigorous coursework and opportunities to think critically to problem solve, as well as being light in a dark world.
At CCA's Elementary School, we value spiritual growth while emphasizing the importance of academic achievement through collaboration, creativity, communication, and critical thinking. Our focus is building the attitude for learning that supports students in becoming strong learners, ready to take on the technological demands of our current world. We provide a range of learning opportunities that, when applicable, utilize technology as a tool for learning and student engagement. We endeavor to create learning spaces across our school that foster the spiritual, academic, emotional and social growth of each of our students. We esteem and expect consideration and respect for others, empathy, responsibility, leadership, and spiritual discernment from our students.
One of the many blessings that set CCA's Elementary School apart from other schools is our active parent support and involvement. Parent participation is one of the key components of student success, and we advocate all of our parents to become a part of our CCA community in some way. We take great satisfaction in the solid union we have with our CCA families. We work together as a team to ensure that our Calvary Chapel Academy Eagles develop to their fullest potential and become strong Christ followers ready to make a difference in the world!
Sincerely,
Joy Campbell
Elementary School Principal
CLASS SIZE RATIOS: ELEMENTARY

| | |
| --- | --- |
| Kindergarten | Max 20 students with full time teacher and aide - 10 to 1 ratio |
| First and Second Grade | Max 20 students = 20 to 1 ratio with floating aide per grade level |
| Third and Fourth Grade | Max 22 students = 22 to 1 ratio with floating aide per grade level |
Kindergarten - 4th Grade Co-Curricular Classes

CCA's co-curricular classes support our core curriculum. During these weekly, 40-minute classes, students are encouraged to think creatively, challenge themselves to try new things, and work together to solve any complex problems they may face.

See them below:

Art: explore the field of art from understanding shading and color mixing to sculpting, architecture, sewing, and more.

Media Center: 4-week rotation of D.E.A.R. time, Makers Spaces (Legos, Robotics, Arts & Crafts), Chill & Read, and Accelerated Reader Quizzing.

Computer: learn basic computer skills, increase knowledge through educational games, and obtain an introduction to coding.

Drama: audition, practice, and perform plays for teachers and families, together.

Physical Education: understand the art of teamwork through class games and competitions.

Kindergarten - 4th Grade Sports Opportunities

We encourage our students to get involved in their school and represent CCA using their gifts and abilities. One of those ways is to take part in CCA sports. Our sports offerings are separated by season and are offered to many grade levels.

Starting in Kindergarten, CCA students are able to participate in our Athletics Program and become student-athletes!

Check out some of the offerings below:

Fall Season:

Swimming: K-6th Grade Co-Ed

Winter Season

:

Soccer: Kindergarten Co-Ed, 1st-2nd Grade Co-Ed & 3rd-4th Grade Co-Ed

Spring Season

:

Basketball: Kindergarten Co-Ed, 1st-2nd Grade Co-Ed & 3rd-4th Grade Co-Ed

To learn more about our Elementary Athletics Program, visit our Athletics page by clicking the button below.

Kindergarten - 4th Grade Chapel

At CCA, we find there to be immeasurable value in planting seeds and pouring God's love into each of our students. Each week, our Elementary students take part in Chapel, where they will participate in interactive praise and worship, followed by a teaching at their level given by our Director of Discipleship or one of the Calvary Chapel of Melbourne pastors.
Become A Part Of The CCA Family!
Interested in enrolling your student(s) at Calvary Chapel Academy? Follow the steps below to complete the process.
1
Request Information
Thank you for your interest in Calvary Chapel Academy. We look forward to connecting with you and serving you and your family. For more information about CCA's Elementary School, please fill out the form below.
2
Take A Tour
Campus tours take place weekly, on Thursdays. Early Education and Elementary tours are from 9:00 a.m. to 10:00 a.m. Middle and High School tours are from 10:00a.m. to 11:00a.m.
No appointment needed!
REQUEST INFORMATION
Thank you for taking the time to learn more about Calvary Chapel Academy! We look forward to connecting with you and learning how we can serve you and your family.
This school is great! My kids actually like going to school everyday!