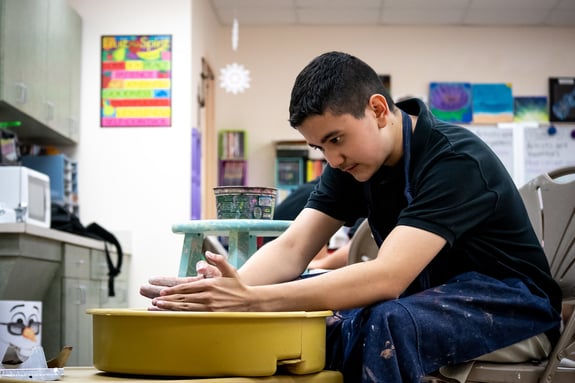 PRACTICAL AND PERFORMING ARTS
5TH-8TH GRADE ELECTIVES
CCA is proud to offer numerous elective offerings to our Middle School students. Our 5th and 6th grade students are able to select one elective and our 7th and 8th grade students are able to select two electives.
DRAMA - (5th - 8th Elective)
Drama is an exciting place to discover your creative abilities, build your imagination, connect to others, and become a better communicator onstage and off. It doesn't matter how much theatre experience you've had – from a little to a lot to none – Gain confidence (and have fun!) through the study of artistic discipline, the elements of theatre, basic acting techniques, script writing strategies, scene development, technical theatre (set design, lights, sound, props, costumes, and makeup), and the entire production process. Discover your gifts, strengthen your talent, and develop your skills through Drama!
COMPUTER - (5th - 8th Elective)
We live in a digital society. Students must be given the opportunity to learn and develop digital literacy skills. From keyboarding and word processing to computational thinking and coding, digital literacy skills are needed more than ever. We will teach students the critical digital literacy skills they must have to succeed on online assessments, college, and in their future careers. Students need to become proficient with all Google tools and Microsoft's Office Suite – Word, PowerPoint, Excel, and Publisher. These applications will see them through high school and then on to university.
DANCE TECHNIQUES - (5th -12th Elective)
This course will cover a combination of contemporary, jazz, hip hop, and ballet. Dance techniques are enriched and enlivened through study of works by a variety of diverse artists, developing genre-specific movement vocabulary and dance terminology, and building knowledge and skills related to somatic practices, dance composition, analysis of effort and outcomes, dance history and culture, collaborative work, and rehearsal and performance protocols.
CULINARY ARTS - (7th/8th Elective)
This course will cover an overview of basic cooking techniques including boiling, frying, grilling, etc. The course will also cover knife skills as it relates to food preparation. Other topics include the basics of measurement, cooking sanitation, and how different foods work together in the science of food. This course will prepare you to cook basic dishes and provide a culinary foundation for more advanced cooking courses. It will be a full year class where everyone will participate.
SPANISH 1 - (8th/9th Elective)
Spanish 1 introduces students to the culture and language of the Spanish-speaking world to further create the opportunity for intercultural understanding. Spanish 1 will motivate interest in authentic culture through interactions taking place between the teacher and student. Students will practice the four skills (listening, speaking, reading and writing) of the Spanish language. These skills will enable students to communicate meaningfully, effectively, and creatively using the target language for real-life purposes. The Avancemos curriculum utilizes many different tools including group collaboration, hands-on activities, and real-world application. Avancemos is currently being used in the area high schools, which will allow students an easier transition into Spanish II. (Please note that completion of this course will fulfill one foreign language high school credit.)
STEM (Legos and Robotics) - (7th Elective)
STEM is a course at CCA in which curriculum is based on the idea of educating students in four specific disciplines — science, technology, engineering, and mathematics. This is done in an interdisciplinary and applied approach. Science, Technology, Engineering, and Math Education provides students with hands-on, problem-based learning opportunities that introduce the principles to develop, produce, use, and assess products related to all four subject areas in tandem. This new framework emphasizes depth over breadth, using scientific inquiry and the engineering design process as part of students' learning experience, and has core scientific concepts revisited at multiple levels to help build on prior learning and facilitate a deeper understanding. Students additionally develop individual and teamwork skills to participate in society and the workplace. Activities are focused on content related to all four areas technology as a body of knowledge, using resources and actions to apply engineering design, use processes to produce artifacts and systems, use devices, tools, and systems safely and appropriately, and assess impacts on society and the environment. The students will use LEGOS and other materials to provide hands-on, challenging activities that engage the student while developing critical thinking skills and communication. Students will research, problem solve, and develop solutions to real-life problems. Using coding and engineering concepts, they will design and build a programable LEGO robot.
WORSHIP BAND - (7th/8th Elective)
Middle school students who enjoy singing or playing instruments will have the opportunity to excel in this very diverse program. The worship band students have the privilege of leading worship for our weekly middle school chapel. This band consists of singers, guitarists, drummers, and keyboard players.
YEARBOOK/PHOTO OPS - (7th/8th Elective)
In this elective, the students will have the opportunity to have fun as they take photos, design pages, and gather information for CCA's Yearbook. This elective will provide instruction in yearbook production, beginning journalism, event photography, and photo layout. Students will learn about photo assembly and editing. Everyone in class will have the opportunity to participate in beginning photography.
ART - (5th - 8th Elective)
Our full year art elective has been expanded to include many fun, yet creatively challenging projects. The students will be introduced to the Elements and Principles of Design and Art - color, shape, line, form, space and texture, rhythm, harmony, balance, contrast, movement, pattern, proportion, and variety - using this knowledge to create works of art ranging from drawing, painting, architecture, pottery, sculpture, mosaic, mask-making, collage, printmaking, textiles to murals. Students are encouraged to come with a willingness to try new things in this hands-on, project based elective.
BAND - (5th/6th Beginning Band; 7th/8th Intermediate Band)
This program consists of 5th-8th grade students. Students in the Beginning Band will have the opportunity to learn to play one of the following instruments: flute, clarinet, trumpet, trombone, baritone, tuba, percussion, oboe, saxophone, or French horn. In addition to learning how to play an instrument, students are instructed in musical notation, terminology, theory, history, improvisation, and composition. Band students are given opportunities to practice and perform in large ensembles, small ensembles, and as soloists in campus concerts as well as performances in the community. No experience is required to learn to play an instrument.
CHORUS - (5th/6th Eagle [Beginning] Chorus; 7th/8th Kingdom Chorus)
CCA is pleased to offer Chorus for all of you who love to sing. This ensemble will strengthen your musicianship. You will learn your voice type, read music, sing with others, and perform with others. Use your voice to glorify God! This elective will require additional before or after school participation in rehearsals and performances such as the Christmas program and Fine Arts Spring Showcase. Whether you consider yourself a beginner or practiced singer, we'd love to have you.
SCHEDULE A TOUR
Come visit our campus! Campus tours take place every Thursday from 9:00a.m. - 10:00a.m. for Early Education and Elementary School and from 10:00a.m. - 11:00a.m. for Middle and High School.
9TH-12TH GRADE ELECTIVES
Personal Fitness/H.O.P.E. (9th Elective)
AP Computer Science (10th-12th Elective)
Speech/Debate (12th Elective)
My son went to this school for 6 years. It was an overall positive experience. He was more than prepared when he went to high school, especially with writing papers. Any discipline or bullying issues that came up were dealt with swiftly and fairly. Teachers were amazing! They communicate well and truly love the kids. We are glad we made the sacrifice to put him at CCA. Money well spent!